How Do You Tour with a Laptop?
For my colleagues and I in the Los Angeles music scene, software instruments have generally been confined to dimly lit studio/bedrooms somewhere in the Hollywood hills. Up until recently, it was hard to even imagine ditching Nords or Wurlitzers for a laptop and a couple of USB cables. But for a touring musician, the thought is extremely enticing. Nowadays, it's hard to find a live player that doesn't own a portable computer, running a live plug-in host like
Gig Performer
with instruments such as
Omnisphere
with its over 14,000 sounds, and
Keyscape
that has all the vintage electric and acoustic pianos you'd ever need. Now, you can legitimately have your gig in a backpack.
Recently, my band Private Island embarked on a 14 show tour from Santa Barbara, California, to SXSW in Austin, Texas. Before we left I decided to commit to swapping out one of our hardware keyboards for a virtual instrument rig. Prior to this tour, I was using a Prophet Rev 2 and a Juno 106 for our key sounds. I got hooked on the idea that bringing a computer into our setup could bring tons of possibilities, importantly, having hundreds of different instruments within reach. No need trying to program an organ patch on a Prophet, I'll use a sampled organ in
Omnisphere
, or use the Blue3 plug-in for authentic customization.
I don't own many vintage keyboards (nor would I want to subject them to the abuse of the road) so finding a VST seemed much more appealing and I could still have that warm analog-modeled or sampled tone. I still use the Juno 106 in my rig, but thanks to
Omnisphere 2.6
(Hardware Synth Integration, woo!) I have all the important sounds re-created using the Juno-106 or the JU-06 Hardware profile. The Juno 106 is the apple of my eye but it's over 35 years old. I fear the day that we stroll into a venue in the middle of nowhere and it goes down. Finding a repair shop would be difficult, let alone finding a rental and re-programming all of the patches. The peace of mind that having a working backup brings is priceless!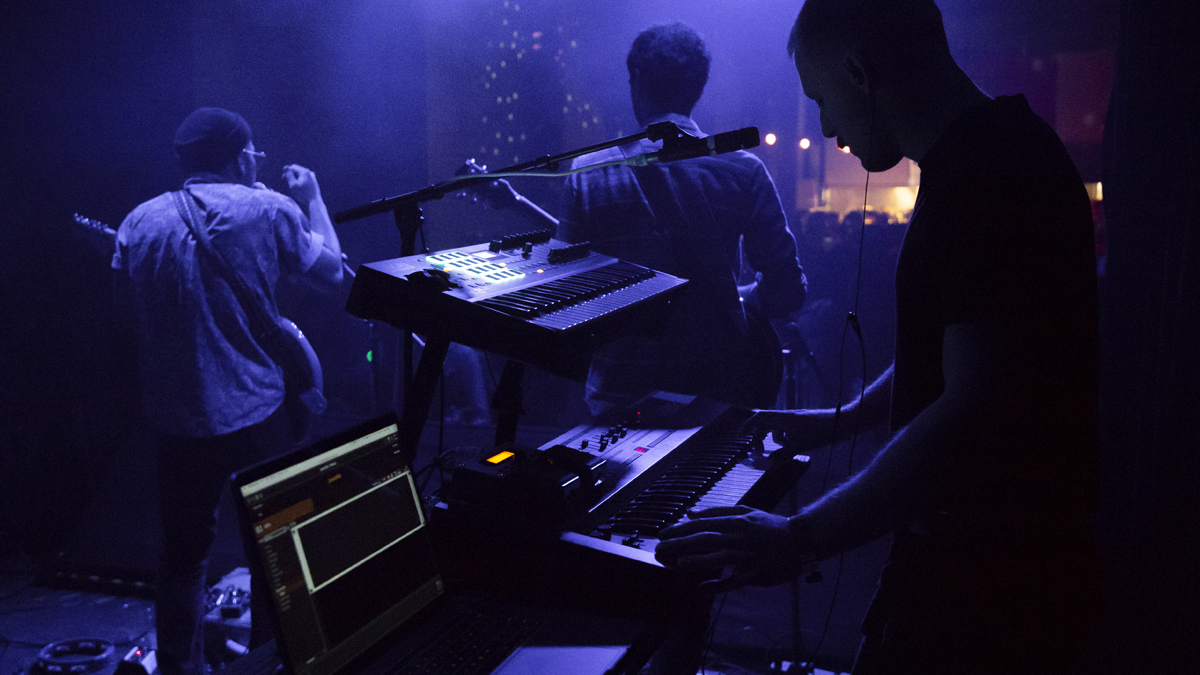 Find A Good Live Performance Host
The real joy of the virtual instrument rig is the simplicity of how I'm able to create my setlists and treat my MIDI keyboard like a real synth, organ, Wurly, or you name it. To run the virtual instruments on my laptop I use
Gig Performer
($149 for Mac or Win). Choosing the right host is crucial. The interface should be easy to use, versatile, and reliable. I chose
Gig Performer
for a variety of reasons—extremely low CPU usage, instant, glitch-free switching between songs, hosts AU and VST plug-ins, and it's insanely easy to create multiple setlists quickly for the different shows that the band is performing. During soundcheck one night, we had a last-minute change to our setlist. No problem at all; in seconds I had our current setlist duplicated and rearranged (and even saved a copy of the original!).
If you're a visual learner (like me) the interface of
Gig Performer
will be quite pleasing to you. When you create a Gig file, you immediately see your MIDI in and Audio ins/outs. Next, you add in your plug-ins, draw connections from your MIDI/Audio into the plug-ins then to your output. Easy, simple, understandable.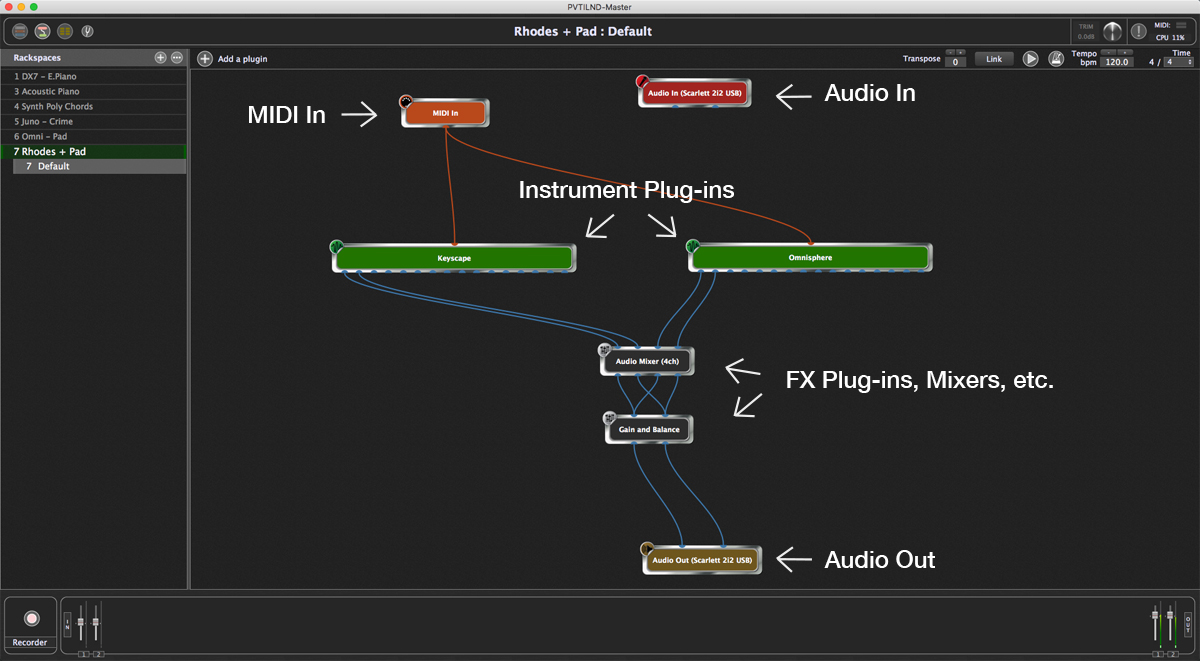 Reliability
Anyone who's ever thought about bringing software instruments on stage has asked themselves this question: "How can I trust my computer will not go down during a set?" To be honest, I wrestled with this question for a long time before I took the plunge. The answer is that you really shouldn't trust any instrument with your life. Let me put it this way—in San Antonio, our guitar player broke a string on stage. Was he prepared with an extra bag of strings? Yes, but could he restring that guitar in between songs? Not without a delay in the performance. That's why we keep a spare guitar off stage just in case of this unlikely event. Our bass player uses a Moog Little Phatty for a few songs. There are basically computers inside most all synths, but are you ever worried that they won't turn on one day? The fact is that laptop computers are more reliable now than they've ever been, and many major acts have toured with them for years, but you do need to set them up properly to be truly road-worthy. I've been told all my life "preparation is the key to success" so let's talk about how you can get a computer ready and reliable for your next gig:
BE PREPARED
Turn off all sounds on your computer (email notifications, alarms, calendar notifications, auto-updates, ANYTHING that makes or could make a sound. You don't want that alarm you set and then forgot about to go off halfway through a set do you?)
Turn off WiFi — No, don't answer emails on stage… bad bad bad. (Turning off WiFi alone will also prevent many apps from automatically updating, wasting precious computer resources.)
Prevent your computer from going to sleep — Uncheck "put hard disks to sleep", and make sure that screensaver of your cat never pops up.
Temporarily disable Anti Virus software. These can take away precious CPU resources from plug-in processing.
Turn off all other apps besides your live host. Again, don't waste CPU resources.
Buy a case for your computer. It doesn't need to be fancy, just protect that investment. (You will probably be putting that computer in some weird places.)
Most importantly—Backup your computer!!!
Backing up a gig file with Gig Performer is easy — I simply store the gig file on a separate hard drive along with a backup of the samples I use. When the five of us in the band are on the road, we all bring our computers. To me, this means four backup machines. You should designate one person's computer as "the backup". Ideally pick the one person with the fastest processor, most hard drive space, etc. If a computer goes down, plug in the spare hard drive, authorize the needed plug-ins (definitely do this before-hand, you'll need internet access), load the session and gig with confidence.
So what other gear do you need?
GEAR
MIDI controller: This preference will vary for everyone, so find the one that's right for you.
Laptop computer: Obviously! But seriously, what kind, you might ask? The answer is simple. Mac or PC, just get one that meets your most intensive plug-in's system requirements. I would opt for the i7 processor, minimum 2.4Ghz, at least 8GB of RAM (16 is ideal), and an internal SSD. The size of your SSD shouldn't concern you much, as long as it's big enough to hold what you need. An external SSD should have USB3 ports or Thunderbolt. Most plug-ins (like Omnisphere or Keyscape) will let you stream samples from an external drive. The thing about computers is this—they depreciate as soon as you take them home. The best purchasing advice is to buy the best computer that you can afford at the time.
USB cables: On Amazon, a three-pack of 10ft USB cables is around 10 bucks. Extras are great to have around.
Adaptors? If you have a new Mac and you use those USB C to USB 3.0 connectors, make sure you have extras. Those have a way of disappearing. PRO TIP: Buy individual ones and tape them to the USB cables.
Audio Interface/DI box: If you're using one virtual instrument rig I'd recommend the Radial USB Pro. It's extremely sturdy, doesn't need a driver, and if you're not using your own stage amp, it has a headphone-out so you can check your signal before the sound guy turns the monitors on. It also happens to have stereo XLR outputs, eliminating the need for an additional DI box. Using multiple keyboards? Grab an interface with multiple inputs and multiple outs. Mix your rig yourself then send the combined (or separate) signal to the Front of House. This will give you complete control over your volumes and sound check will be quicker.
Plug-ins: Most of my sounds are coming from Spectrasonics's Omnisphere and Keyscape. Omnisphere covers all my synth and textural needs while Keyscape covers the classic keyboards. If hard drive space is limited there are affordable options too, like AAS's Lounge Lizard EP-4, which has a stellar electric piano sound and uses physical modeling (no samples = little hard drive space).
Live Plug-in Host: Two words—Gig Performer. Keeps your CPU usage extremely low, has glitch-free switching, let's you use different plug-ins for song parts (verse, bridge, etc.) and create setlists. Have I mentioned how easy it is to use?
All in all, I'm pleased to say that over the course of three weeks and 14 shows, never once did I have a hiccup in my instrument rig, nor was the sound guy ever confused about any aspect of my setup. I'm sure many will agree that it's great to have analog gear on stage, and this is one of the reasons I still have the Juno-106 in my rig. However, in terms of live performance, there is no beating the versatility, portability, and power of virtual instruments. Putting a gig into a backpack says something, especially since the industry has placed such a heavy emphasis on one's live show. Sound like your record on stage, bring less gear, put on a killer live show and make life easier on yourself. Isn't that the touring musician's dream?