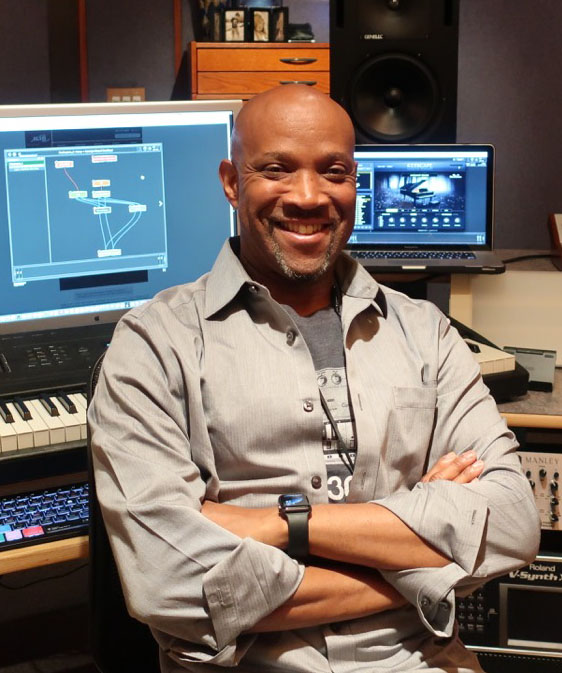 Running a live show requires an incredible attention to detail, the quick wits to think on one's feet, and a creative use of the right set of tools. Such a collection of skills takes decades of experience to pick up, learning as you go. Joe Wolfe is one of those guys who can do it all and then some. A world class programmer, technical director, writer and producer, Wolfe has worked on tours with a Mount Rushmore of artists, including Whitney Houston, Prince, Madonna, Earth Wind & Fire, Justin Timberlake, and Alicia Keys. Currently on the road with Pink for her Beautiful Trauma World Tour, we talked with the man himself about his live performance setup, love for ILIO distributed products, and the freedoms along with challenges that come with running a live performance using 100% laptops.
On the Road with Pink
On this tour, Wolfe is using a total of six laptops for each show, and the keyboard players are using only software synths and plug-ins for their sounds. While this brings a whole lot of freedom to a performance, it also comes with a few tough decisions to make regarding computer processing. Wolfe explained his decision-making process as follows:
"The challenge at the onset was finding that balance between your favorite sound or plug-in versus the system resources. Just because you have this monster sound doesn't mean that's the sound you should use. It could hit your processors in a way that could make it fail, especially since we're using laptops. I can't necessarily say it would be that much better if we were using desktops either."
Since starting to use early soft-synths on tour with Whitney Houston in 2010, the world of plug-in instruments has come a long way. Almost a decade later, soft-synths have reached a new level of authenticity and reliability, and Wolfe makes use of them on an every-night basis, including many standout products available from ILIO:
"I'd probably say that 65-70% are ILIO distributed products like Spectrasonics and Synthogy. But mostly, Keyscape, Omnisphere and Ivory ... The strings, pad synths, just the depth and the weight of the sound in terms of the piano sounds from the new Keyscape libraries are so rich, you don't just hear, it you feel it."
Portability
Now that a purely laptop based live rig is possible, Wolfe has found a new level of comfort while touring all over the world. In the past, the thought of a tour of this magnitude conjured up images of lugging huge keyboards through the airport, living in constant fear of losing gear somewhere over Dallas. Nowadays, Wolfe opts for picking up controllers in each city and using his laptops as the soundsource.
"In the studio it's great [to have hardware] but being a touring musician and technician, it just isn't practical to carry a case full of synths with you. The beautiful thing is that if there is a situation where gear is being shipped overseas and a boat goes down, or whatever happens, I can pull my laptop out of my bag and we have a show."
Reliability
Portability isn't the only aspect of laptop based live rigs that appeals to Wolfe, it also makes a live show more safe from issues that may crop up during a performance. Dependability can't be understated, especially when you're rocking crowds of 30,000 screaming fans who don't want the music to stop. Wolfe says,
"The gear is stable, the plug-ins are stable. We're at 46 shows, and zero incidences of crashes. No crashes or stuck notes. Using a laptop on stage, if we lose power, battery life will sustain us through the show. If you're using a Korg Kronos and you lose power, you reboot the keyboard, and you've got a whole minute and a half that you have to wait for the thing to load. That's half a song where you're without sound."
What's Next?
Looking towards the future, Wolfe is as excited as we are about new breakthroughs with Spectrasonics and starting to implement Gig Performer into his live productions, which will bring forth even more sonic explorations,
"I'm really excited to see what the guys at Spectrasonics are doing with hardware integration. To have full access to Omnisphere's palette in a hands-on capacity will be great. I'm definitely intrigued by Gig Performer as well, after seeing it at NAMM and seeing how well it performed," said Wolfe.
Clearly, there is a lot to be excited about moving forward. Wolfe will continue working on major tours and albums, because he understands that at the end of the day it all comes down to one thing – sounding great. When discussing the soft-synth breakthroughs he imparts one last piece of wisdom that we all should keep in mind, saying:
"Happy Sound, Happy Player."
Reach out to ILIO to learn more about Omnisphere 2, Keyscape, Ivory, and how you can use Gig Performer to play them all on stage with your laptop.