At this year's NAMM show, VSL's own Martin Tichy explained some common differences between the Vienna Smart Orchestra and Vienna's Big Bang Orchestra. Realizing there might be more questions about differences between them, we thought it would be a good idea to break both products down. We hope this helps!
All of us at ILIO are quite excited about the Smart Series from Vienna. These budget friendly libraries utilize the sampling expertise of Vienna, in one of the best sounding scoring stages in the world, and feature a lower sample load compared to other VSL libraries, so playing live is easier and encouraged!
Vienna Smart Orchestra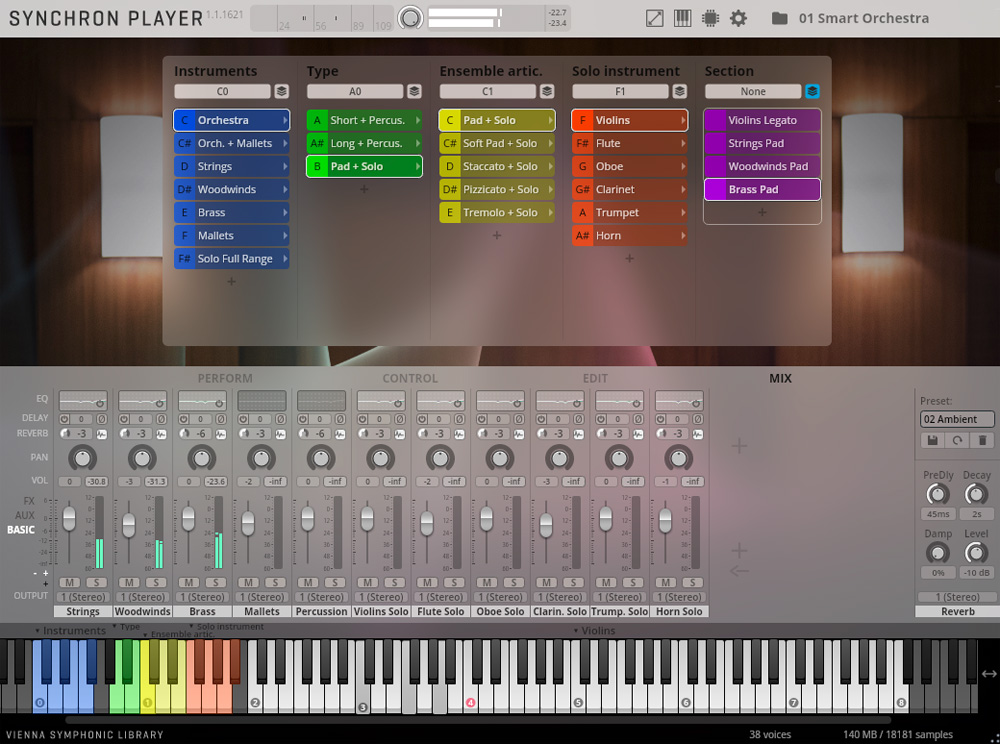 If you desire versatility, Vienna Smart Orchestra lays out an entire 140 piece orchestra over the entire keyboard. Brass, Woodwinds, Strings, Percussion are organized so that lower instruments are on the left side of the keyboard and higher instruments are on the right side. This works extremely well for blending orchestral samples into a composition. For sketching a motif or for playing live on stage, choosing the pad + solo instrument option is extremely useful for playing the orchestra in the left hand and a solo instrument in the right hand. Additionally you can isolate sections, solo instruments, or of course create your own combinations that suit a variety of musical compositions.
Flexibility
Basically, there's a lot of freedom to be had within Smart Orchestra. Out of the box you have access to an entire orchestra (all sections played together), or the individual sections, i.e., Strings section, Winds section, Brass section, and Mallets/Percussion sections. In the lead instruments department you'll find ensembles of violins, flutes, oboes, clarinets, trumpets and horns. Vienna utilizes its MIR technology to place the instruments on a virtual stage, allowing Smart Orchestra to sound amazing straight "out of the box". Of course this ambience can be adjusted and even switched off in case you want to apply a different ambience.
Expandable
If you feel that you need more instruments and control, there is a VSO: Expansion Pack for Smart Orchestra that adds new instruments such as Harp, Celeste, Viola Ensemble, Cello Ensemble, Piccolo, English horn, Bass clarinet, Bassoon, and Timpani.
The Smart Orchestra is part of the "Smart Series" from Vienna, which also includes Smart Spheres (ambient symphonic explorations) and Smart Hits (percussive hits, "braams", risers, swells, and sub booms).
---
Big Bang Orchestra
First off, it's worth mentioning the Big Bang Orchestra (BBO) is a FREE LIBRARY (you can get it here). However, you will need a Vienna Key in order to authorize and use it.
The big difference here is that all Big Bang Orchestra libraries are played "tutti" which means "all together", as in all 70 members of the orchestra were recorded playing all at once at Synchron Stage Vienna. There is no changing this, contrary to the Smart Orchestra where you can play the whole orchestra or isolate sections and solo instruments. In addition, the Big Bang Orchestra inherits the sound of the Synchron Stage in the samples (i.e., they were recorded on the Synchron Stage), contrary to the Smart Orchestra where dry samples are processed by the Synchron Stage convolution reverb.
Just the Basics
Keep in mind that the free tier of BBO is great for getting introduced to what the library is, but can be quite limiting. It offers only basic articulations such as staccatos, sustains, marcatos, swells and runs, which might be all you need. However with the added packs (Andromeda, Black Eye, etc.), this library transforms into something much more, creating earth-shattering accents, awe-inspiring "braaahhms" and nerve-wracking tension cues.
Expandable (Andromeda, Black Eye, etc.)
Check out all current Big Bang Orchestra Expansion Packs here.
You will see that there are Big Bang Orchestra paid products such as BBO: Andromeda and BBO: Black Eye. These do not require that you first own the free BBO; they are standalone products that have newly recorded samples, expanded articulations, FX, and they specialize in a certain domain. For example, BBO: Black Eye is focused on phrases and FX.
The free BBO is for you if you just need the orchestra as a whole, whether as a simple layer in your composition or as creative orchestra explorations. The expansions of the BBO stretch further into the unique, specialized, and even experimental realm, sometimes venturing far beyond the traditional boundaries of a conventional orchestra. This is perfect for sonic climaxes and orchestral sounds/textures, ideal for the film and video game scoring world.
---
Similarities Between Vienna Smart Orchestra and the Big Bang Orchestra
Synchron Player
Both libraries utilize Vienna's powerful and easy-to-use Synchron Player, giving you complete control over any aspect of the sample playback. The Vienna Synchron Player includes a full-fledged internal mixer with 5-band EQ, individual delay settings for runtime compensation, algorithmic reverb, phase switching, panorama controls as well as a host of effects such as saturation, delay, compressor, auto gain and many more.
Built-in FX
Both libraries utilize the Synchron Stage ambience in some way — either naturally recorded on the stage (BBO) or dry samples processed with the stage's convolution reverb (Smart Orchestra). Additionally, both libraries include a series of built in FX to further process the sound, such as reverbs, delay, filters, compressors, distortions, modulations, etc.
Any More Questions?
While they serve different purposes, each library is meant to live in harmony with the other. We encourage deep sonic explorations and hope these libraries help you discover some of your best work. We also hope this overview helped answer some questions you may have had, and if you need any further assistance please contact ILIO either by phone or email. Happy exploring!