LIFE AND CREATIVITY IN A TIME OF PANDEMIC
When Covid entered our lives in February 2020, the world went into hiding willingly, mitigating measures to "flatten the curve" were embraced globally as countries went into lockdowns and we paid attention to reports about casualties in countries hardest hit, hoping our own would fare better.
Then, amidst the worrying rising numbers of fatalities reported in Italy, a phenomenon surged, springing from empathy and compassion and becoming viral: video clips showed professional and amateur Italian artists singing popular opera arias or playing music together with neighbors from adjacent balconies, and for a moment, the sense of isolation loosened its grip; warmth and hope ignited hearts.
And it worked. Once again, music was carving a record of history on the trunk of humanity, as we became more than scattered islands of grief, forgotten, feeling a hope that we would see this pandemic through.
Similar events were soon emulated in Brazil, Spain, Canada, America, Croatia, Panama, India, Turkey, Germany, France, Iraq, Hungary, Switzerland. Thanks to music, songs, dance, and many other forms of creativity, we continue to affirm our common humanity across languages, being understood at a heart level, enriched by the inner radiance of kindness, empathy and compassion.
"Thanks to technology, all exchange of files and feedback was done online. Each musician and singer had the freedom to use their own equipment, sending me a wav file of their work that I could incorporate into the mix. "
Music is a timeless repository of our universal memory. I know people who endured bombings on their city during wartime, an already horrifying ordeal, and who, in order to protect their children's sanity used song, dance and play, yet unsure if they would survive the night. I imagine these children will forever remember their parents' shivering voices standing against the roar of deadly explosions, perhaps their creative humor standing as a wedge between despair and insanity, offering a way of escape and survival.
WHEN THE MUSE SHOWS UP, WE SHOW UP TOO
In my protected Canadian bubble, I joined in, like so many others, and I did Facebook live short performances, shared some on YouTube, improvising, creating momentary encounters with and between strangers.
But something else also landed in front of me which would sweep me into intense activity for the next nine months: the idea of producing a cover of an epic '70s song, titled "Lord Of The Ages" by the legendary Prog Folk UK band, Magna Carta.
Even without a budget to speak of, the project introduced me to exceptional collaborators, musicians and singers from Canada, the UK, Holland, the US and, for a while, Australia, making it a truly international collaborative project.
"Omnisphere and Unify have been crucial to the project from start to finish."
Thanks to technology, all exchange of files and feedback was done online. Each musician and singer had the freedom to use their own equipment, sending me a wav file of their work that I could incorporate into the mix. And so it began...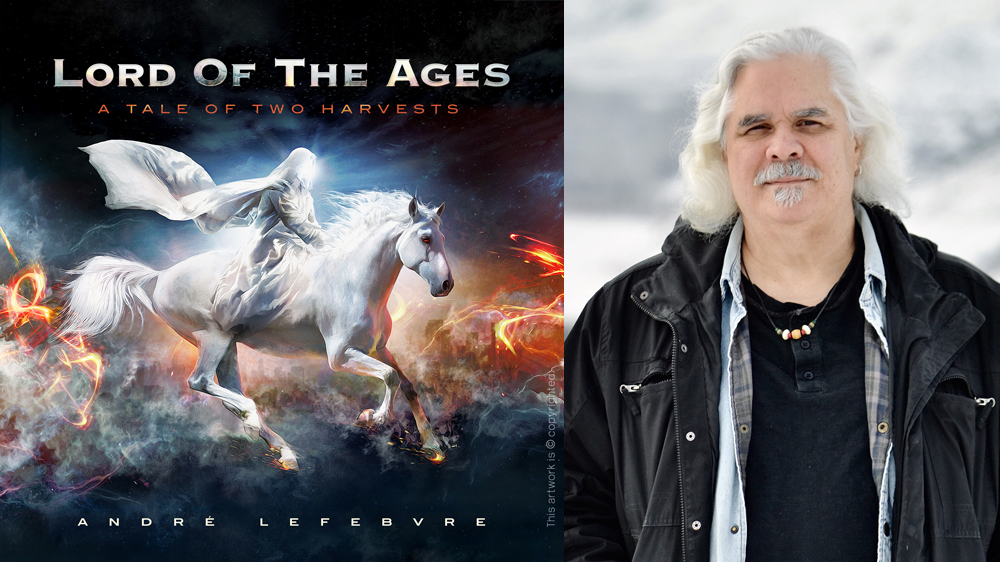 THE SONG
Perfectly archetypical, the song is an epic poem imagining the ultimate outcomes of good vs evil, while the world is engulfed in a hellfire unleashed by greed and cruelty. The end of a good old dystopia where those responsible for carrying out the destruction are called to account, and their victims liberated from their oppression, and carried to a better place.
This narrative gave me some direction as to the atmosphere and energy of the song. Playing out in a typical three-act structure, I wanted it to retain some of the original "folksy" style for both the first and last part (prologue and denouement), while going heavier for the bridge (the crisis), with prog rock overtones, while introducing a bit of a movie trailer drama.
None of us had music sheets (plus, not everyone had reading skills), so we all just picked our parts by ear and played through, creative freedom allowed. And I think that made a huge difference.
THE MUSICIANS
Finding musicians and deciding which ones to keep was relationally difficult. You put yourself in their shoes and wonder if they got your number now. But it all went well; seems like that's part of the journey. And I kept going until I found what I was looking for. You don't always know what you're after until you hear it.
For example, all told I had three drummers sit for the song, and the third was the keeper. The same went for narrators, which numbered five (including myself), and it was the last who finally lifted the song to the fantasy realm where I felt it belonged.
Living 700 miles away, my old friend Darin Janzen (multi-instrumentalist, composer and former member of Tribe Of One from Winnipeg, MB) poured the foundation for the whole project - the guitar tracks upon which everything else was built. He picked up the entire song by ear and sent me back seven files of both acoustic and electric guitars.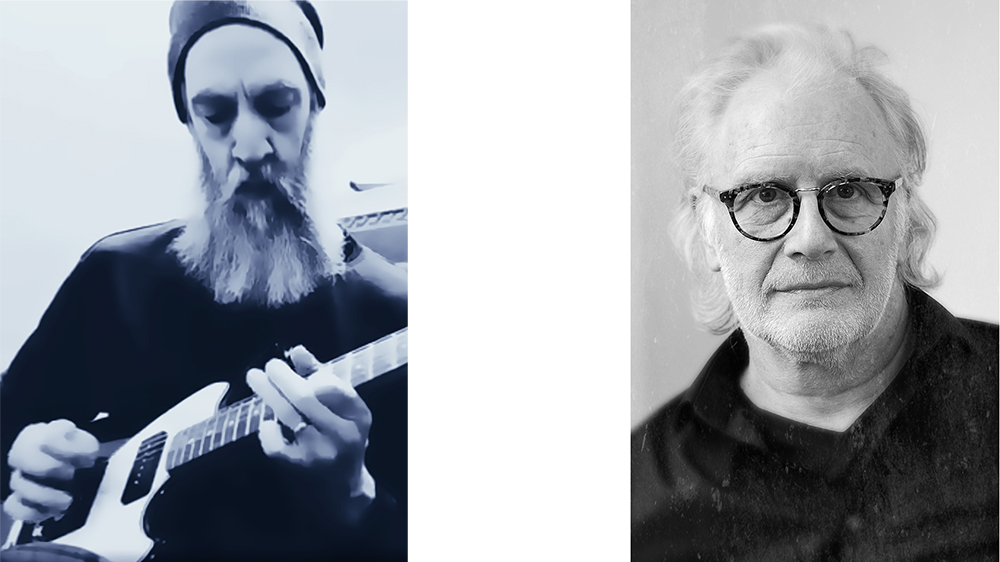 I started adding keys and editing the tracks I had received, while searching for a narrator that could deliver the poem and set the song in its proper frame. Imagine a Gandalf-like voice heard telling this story to a group of friends sitting around a fire after a hefty meal, mesmerized by the tale and the dancing sparks... Enters Steve Stickley, a career theater and voice actor from the UK.
And that's how I built the whole song, using the foundation of the guitars, the bass and the drum, and adding my keys as so many paint brushes to glue things together, smooth out transitions, making sure it was a solid sonic tapestry retaining its energy from one section to the next.
MORE ABOUT THE MUSICIANS
Darin also contributed amazing background vocals for the bridge, harmonizing with lead vocalist and friend Andrew Smith, one of the few Canadians to have won the prestigious Kerrville Newfolk Songwriting Competition in the USA (Texas).
Then, unsatisfied with the drum tracks I had gotten thus far, I sent a note to a Facebook acquaintance, Dave Bainbridge (IONA, The Strawbs, Celestial Fire). Dave was kind enough to connect me to Frank Van Essen, his own drummer in the Celtic prog rock band Celestial Fire, composed of members of another Celtic prog rock band, IONA.
Being a prog rock drummer, Frank instinctively knew how to move with the song and give it a bit of that stampede vibe, a perfect match with the story. Frank then connected me with the bass player of his band, Simon Fitzpatrick (also member of the Carl Palmer Legacy Tour). Simon's track was perfectly meshing with Frank's, as one would expect with band mates.
What can I say about Sally Minnear's ethereal voice? Sally is also a member of IONA and Celestial Fire, and has toured with Michael Flatley's Lord Of The Dance for two years as lead vocalist. As soon as she starts singing, the song is crowned with incredible fairytale power.

At that point I realized: "OK, the Muse is all over this song, I just need to follow her lead and do the work. Honestly, it was surreal to me.
TOOLS
The whole song was built in Mixcraft (an emerging DAW I migrated to a few years back). It greatly eased my workflow, especially when using virtual instruments and automation, and I find editing tracks with it rather intuitive and fluid.
"Omnisphere is one of the first virtual synths I go to in order to explore sounds and textures. No matter the project, it always offers plenty of creative ideas, some of them totally unique and original."
Two main keyboard instruments are heard throughout the song: first is the exceptional piano found in Unify from PluginGuru, and also a B3-ish organ sound from the Korg Trinity, which also provided a synthesized upright acoustic bass, as well as some Moog-ish sweeps and percussion.
When searching for sounds, I don't always know what I'm looking for, but these major synths and samplers offer incredibly rich and diversified sonic palettes, and I admit that I literally "stumbled" on some of the sounds you hear on the song, a few of them coming from Omnisphere by Spectrasonics, the king of virtual synths, as well as from Kontakt 6 (full), Spitfire, and a smidgen of Alchemy.
Omnisphere's default library is massive (understatement of the century), but I also like to include third-party libraries, many of which showcase the phenomenal possibilities of Omnisphere.
With Kontakt, I drew from its Factory Library, Sonespheres Distance (Soundiron), Spitfire's Tundra, Tropar Choir Basses, Evolution Dragon & Evolution Atlantica (by Keep-Forest).
Spitfire's BBC Discover library, as well as their Epic Strings, were right at home in the tracks, bringing a welcomed realism to the timpani and strings.
THE TAO OF CREATIVITY
Omnisphere and Unify have been crucial to the project from start to finish. Omnisphere is one of the first virtual synths I go to in order to explore sounds and textures. No matter the project, it always offers plenty of creative ideas, some of them totally unique et original.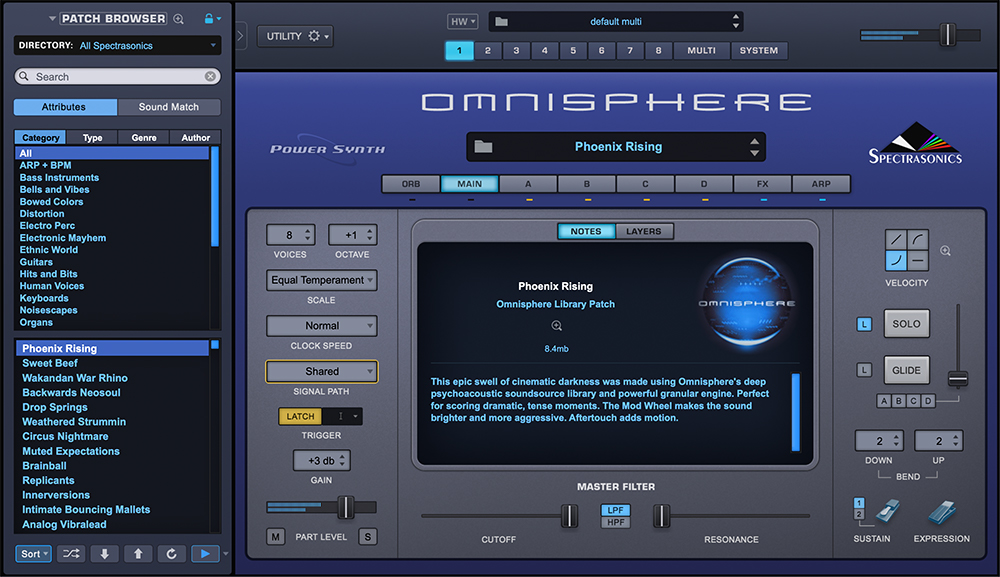 My first synthesizer was a D-50 (1987) and I've been fascinated with Eric Persing's sounds ever since. In 1998, I discovered Eric's library Distorted Reality, and it definitely opened new realms of possibilities. That you could make sounds like these "musical" was revolutionary.
There are sonic brush strokes and punctuations from Omnisphere that appear at various points of the song, including strings, synths and choirs patches.
They create ambiances, link together certain passages, insert and accentuate colors and textures, carve out spacious landscapes and punctuate the musical narrative, weaving all of this into a rich tapestry of sounds serving the story.
Honestly, I think buying Omnisphere is a kind of rite of passage for musicians!
The piano you hear on the song comes uniquely from Unify. It actually was the selling point for me when John "Skippy" Lehmkuhl first introduced Unify to the world. As soon as I heard that piano, I was sold.
IN CONCLUSION
I will admit it was a difficult nine months, with the usual doubts and uncertainties that come with working alone without the input of a local creative team. But, sometimes the challenge can have a positive impact, forcing you to dig deeper. Thankfully, I benefited from the online feedback of a few trusted friends across the continent, and to me that made all the difference.
Dealing with the challenges and concerns associated with this kind of project, sometimes I just needed to leave it all aside for a few days. But it was a great school as well; I learned further about myself, and about what I can accomplish even if it feels uneasy at times. And now I feel like I could do more, engage in new projects.
While live concert venues have been abandoned, many closing down for good, artists find new ways; you cannot contain and restrain creativity. Even during a pandemic, creativity surges and the Muse leads on, reminding us that in the midst of the darkest nights, the light of the human soul can still shine brightly through, illuminating and reflecting our agency through acts of creation destined to look over the wall, and breathe life in communities.
These acts of creation are like candles in our window, helping pilgrims navigate the night, and reminding us that we once were wanderers, and to be mindful of those we share the road with.
---
André has been doing French translation for the Coalition for Music Education in Canada since 2004.. He is currently webmaster for the Vi-Control forum.
Listen to a preview of Lord of the Ages or purchase the full download at https://barefootheartmusic.com/